Combining Your Status Updates & GPS Data in a Single View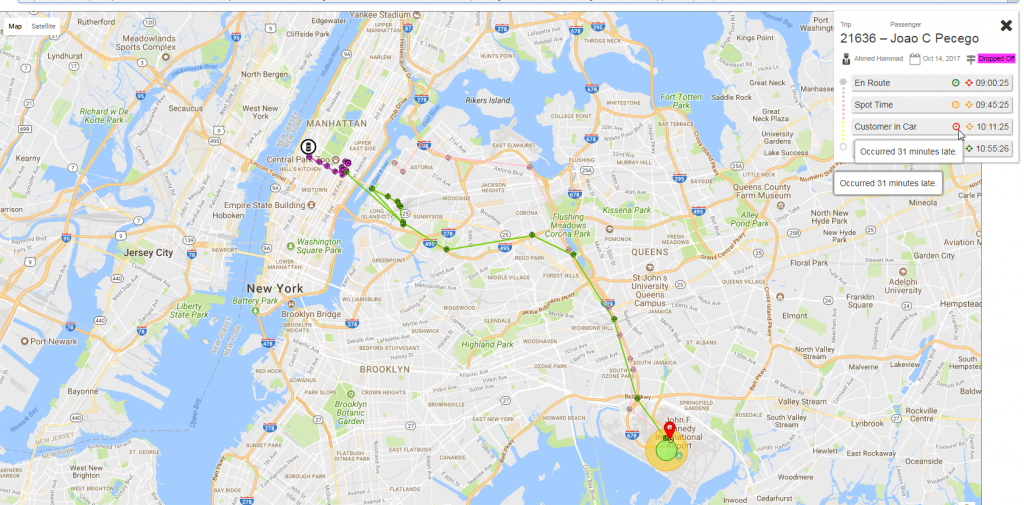 How much would your business benefit from access to an easy-to-read online map that showed you exactly where and when your driver's updated their trip statuses–even color coordinating the map so you can tell if they're on time or late?
If your dispatchers or back-office staff are spending their precious time trying to match your fleet's GPS data with your driver's trip data, whether it's for billing or performance reporting, our Dispatch Mapping can help.
Old vs. New: Helping Save You Valuable Time
Here's the old way of getting an accurate look of your drivers and their trip status updates. You open your GPS platform interface and select a vehicle. You click on the map to see certain reports (en route and at drop-off, for example). But then you have to go back to your LimoAnywhere trip data to see if these actions took place on time. The back-and-forth is time consuming and can easily take away hours of your team's day.
Here's how Dispatch Mapping works: Your LimoAnywhere trip data is connected with your GPS information, creating a single map view, where you can quickly find a specific trip, vehicle or driver and see:
Whether they were en route at the right time
If they arrived on location as scheduled
When they had the customers in the vehicle
At what time they dropped off the clients
No need to switch between systems. No need to zoom in on a certain section of the map. No need to cross-reference schedules with reported status updates. It's all there for you – in a visually simple and easy-to-read map.
Which GPS vendors are supported?
ArtusMode, TomTom, FleetMatics, NexTraq, CommandGPS, InTouch, TSO Mobile, Silent Passenger, GeoTab, Fleet Complete, GPS Insight, Keep Tuckin', Ituran, One Step GPS, Netcorp, SamSara, SkyBitz, Street Eagle, US Fleet, ATTI Shadow Tracker, Azuga, NordeTrack, Zonar, and Linxup are currently supported with AddOns.LA. If you don't see your vendor listed here, please contact us about integrating them!