Get actionable feedback on your services & operations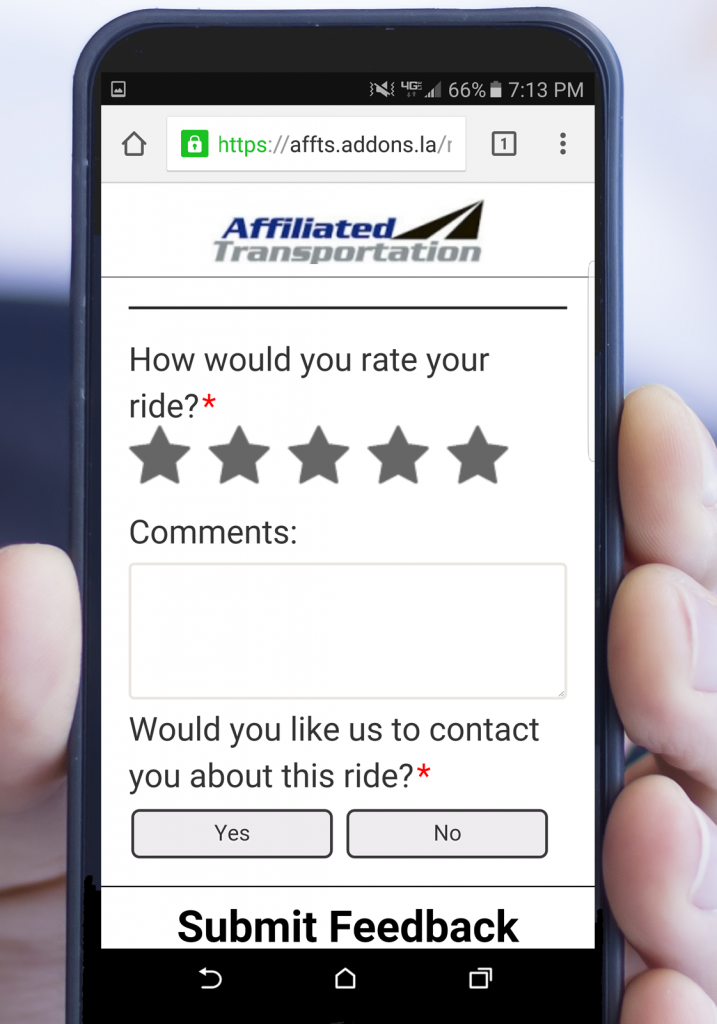 Surveys provide an easy way to measure how your company is performing and what your clients think of your services. And while it's great to know how well you're doing, it's even better to get feedback that helps you drive strategic business decisions.
That's where AddOns.LA comes in.
We'll take your traditional customer satisfaction survey and turn it up a notch (or ten). You'll get comprehensive and useful reporting and customer insight that's directly connected to your business operations. Your simple client satisfaction survey turns into a powerful business tool that can help you improve your organization not just for today, but for the long-term.
Here's how it works:
First, our survey solution is fully integrated with your existing LimoAnywhere account, so you'll then get the ability not only to quickly and easily text online surveys to your clients, but also to map these surveys direct to your reservation data. You won't have to manually figure out which driver was on which trip in which vehicle got a poor customer review — we'll connect the information for you in an easy-to-understand way that enables prompt and efficient decision making.
And what's more is our surveys:
Feature a responsive design that adjusts to the screen size on which your customers are viewing them (that means no matter if they're taking the survey on a smartphone or laptop, they'll be able to easily complete your survey)
Are fully customizable, allowing you to ask the questions that are most important to your business
Sending policies such as "Every 10 trips" or "Every 90 days" are provided.Users that don't respond to their first survey can optionally  be added to a "Do Not Survey" list.
Can be sent via text message immediately and automatically after a trip or on a trip status change in LimoAnywhere
Allow you to see historical trends in your drivers' performance, tracking a variety of metrics, from who's your best driver for morning trips to which driver is best for your larger vehicles and much more
Can be branded to your company and sent to your clients – even if an affiliate is operating a trip for you
Can be delivered for any or all of your trips AND any or all of your affiliate trips – you decide who you want to survey!
Positive feedback from your surveys can also be shared on your own website or social media profiles, so you can easily showcase the amazing service your company provides to its clients online.
If you want valuable insight on the performance of your vehicles, drivers and more, AddOns.LA integrated LimoAnywhere surveys are for you.