Quote like a boss.
Your customers want information and they want it now. Automatically quote each and every lead. Turn your website into an eCommerce engine!   Here's how it works:
Flexible lead forms or "Website Widgets"
Choose the lead form that fits best for your business. We have over 10 options to choose from, all easily customizable for your website/brand, easily install-able to your website or landing pages. Intelligent forms that verify data, provide accurate local autocomplete, flight lookup, and are formed to meet your exact booking flow.
Abandoned Cart Recovery
Let's face it, people abandon the checkout process all the time. AddOns LQC can help you get those visitors back!
CRM & Marketing Automation without the hassle
Automatically drip/nurture leads for increased close rates! AddOns Touchpoints automatically guide prospects and sales people through your booking flow using SMS, Email & Employee tasking to drive close rates. Track sales person close rates and performance.
Upgraded Pricing Engine
Can you price the way you want in LimoAnywhere? If not, we have a solution for you with AddOns.LA's rate engine upgrade for LimoAnywhere. We add several options for pricing including dead mileage, daily/hourly/mileage/per person/zone/geofence. We support drawing geofences for rate policy, making it super easy to setup your rates accurately the first time!
Fleet Capacity Awareness
The biggest concern most customers have with taking online bookings in an automated way is inventory awareness. Is my party-bus available that night? Can I make there in time from a trip during the day etc. AddOns does all that calculations for you and provides customers with real-time availability and pricing on your website channels. No more worries about overselling during busy season.
Ads Integration
Chances are you are blindly spending with Google Adwords & Facebook Ads and really have no idea what your true return on ad spend is. Track your ad spend where it matters. Traditional Google Tag Manager and Facebook Pixel setups only capture a portion of your activity, with AddOns.La's LQC Ad integration, you get full tracking of every ad dollar spent and get a full picture on that ROAS (Return on Ad Spend). Many times our customers pay for their Add-ons service with savings from their ad budgets!
Sales Funnel Visibility
Have friction in your sales process? AddOns can help find and eliminate it. See where bookings drop off at search, at pricing, or at confirmation etc.
Revenue Management
Uptick prices based market factors. Chances are you are leaving money on the table for many days of the year.  Using our dynamic pricing policies you can automatically capture that lost revenue opportunity.
Up-sell & Line Items
Want to sell additional items or services for travelers but never had a good way to do it? LQC Line items changes all that.  Want to offer alcohol or other options only in a certain locality or state? No problem.  Need to count/charge for oversized luggage? No problem.  Line Items for LQC allows you to describe and sell anything you like during you booking flow.
You can't afford not to use these techniques. Your competitors are!
Addons.LA Web forms
Center Form
Use Case: Airport Transfers and shared rides

Micro Form
Use Case: Airport Transfers and hourly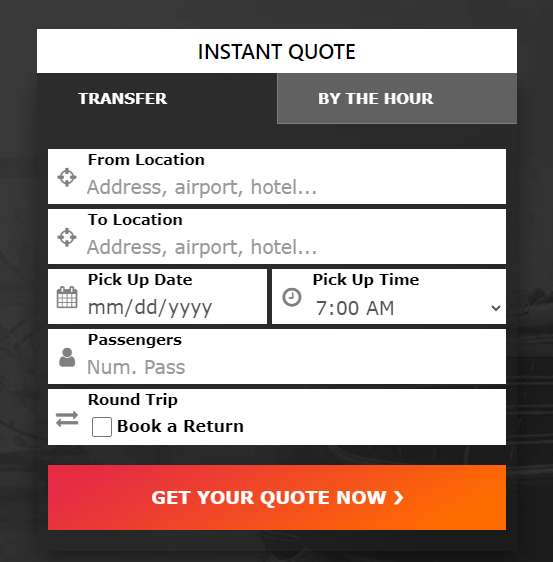 Contact Form
Use Case: Hourly – Party Buses/limo/sedan